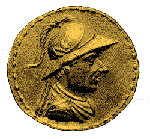 Ancient Coins
---
News and views plus other places to visit and
useful contact information in the world of numismatics.
We'll be attempting to keep track of news in numismatic circles on these pages. If you know of any news-worthy items - exhibitions, sales, new techniques etc - use the response form to contact us at Polymathematica and we'll endeavour to include it in our next update.
---
Ancient Coins for Sale

Polymathematica has been working with several coin dealers for a number of years advising on the cleaning and preservation of ancient metals. We're featuring a selection of coins for sale from the Senior Consultants current listing, a small number of which have passed through Polymathematica's hands.

Ancient Metals and Artifacts

For those interested in ancient metal artifacts, try our new section containing some interesting bronze, gold and silver antiquities for sale form the Nick Aves listing.

Cleaning and Preserving coins

The Polymathematica guide to corrosion problems in ancient coins and metals, with information about what to do to clean them.

Background Resources

Available books on coins and metals. Some of these books for sale are rare and out of print editions.

British Museum puts on show

The British Museum is to create a permanent exhibition on the history of money. The exhibition will be the only one of its kind in one of the world's great museums. It is due to open in January 1997. The collection of coins and banknotes is said to be worth more than £100m.

Portraiture on Greek Coins

A temporary exhibition is planned at the Cripps Gallery, Fitzwilliam Museum in Cambridge (UK) on The development of portraiture on Greek coinage. The exhibition runs from 25 June - 25 October 1996

Rune's Ancient Coin Page

Interesting site on ancient coins, well worth a visit for the JPEG graphics alone.

Coin Directory

The majority of numismatic sites are in the US. This is a good starting point for an Internet search for coin related topics.
---
Back to index

Cleaning Ancient Metals and Coins

Ancient Metals

Ancient Coins

The team
---
Polymathematica, can be contacted by email at polymath@polymathematica.co.uk or by response form

A Q-ten site
Last Update, 1-July-96
---